Shopping Cart
Your Cart is Empty
There was an error with PayPal
Click here to try again
Thank you for your business!
You should be receiving an order confirmation from Paypal shortly.
Exit Shopping Cart
| | |
| --- | --- |
| Posted on July 14, 2014 at 1:15 PM | |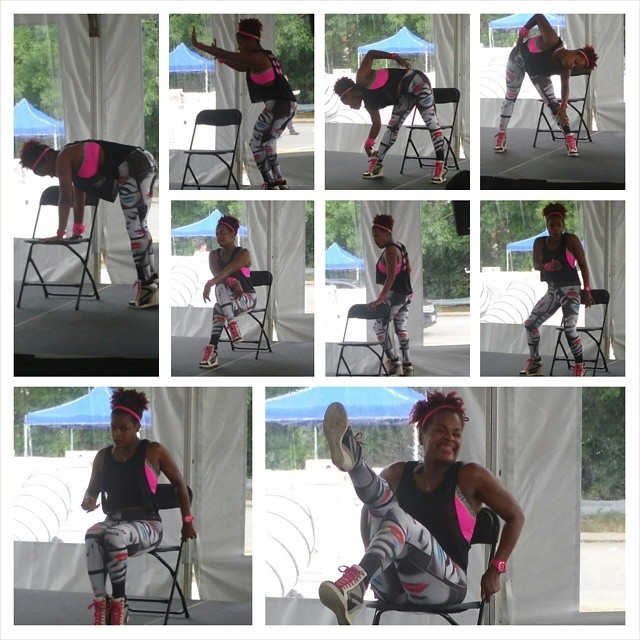 I must admit, I am soooo DARNED proud of myself! I was soooo nervous about yesterday's SiZZle demo. Even with me taking some of the dance moves from R-rated to PG-13, it was hard to get up in front of a group of strangers and get my 'sexy' on. Okay my 'mild' sexy but sexy none the less. LOL!
To tell the truth, I was having second thoughts about performing at all. Tha' Mista' was supposed to go with me and then he got mandatory overtime and couldn't get off work. So, I had to call my sister, who had her day planned but changed her plans for me. When I arrived, I walked around for 20 minutes looking for the pavilion. When I FINALLY found it, I discovered that the area where I was supposed to perform was outside and NOT covered and since it was so hot as fish grease outside all the other instructors had canceled. So, it seemed I wasn't going to go on after all and to be honest a part of me was a little relieved.
As, I was leaving, I noticed that there were people doing fitness demos in an indoor tent and I got that little gnawing in the pit of my stomach. You know that feeling you get when you feel like you're punking-out. How could I walk away without even TRYING? I knew I HAD to try. So, I stopped for a moment, had a little chat with myself and gathered up my courage. I then decided to ask a total stranger if I could do a demo on their stage. And guess what? He said YES! I was actually the very last person to go on but I DID IT!
Lesson learned: When one door closes, sometimes you've got to put your big girl panties on, deal with your fears and kick another one open!
Categories: None
/